Services
In order to improve the health and the lives of our patients, we provide a number of different services designed to help them live life to the fullest. We are able to treat and care for individuals with different health conditions, mental issues, and physical limitations regardless of age. Here is a list of some of the various services we are currently offering: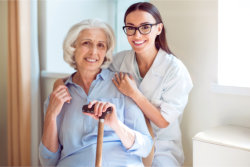 Activities of Daily Living
Bathing and All Personal Hygiene
Dressing and Body Care
Meal Preparation and Feeding
Light Housekeeping and Laundry
Ambulation, Transferring and Positioning
Even though we have set services you can choose from, our support and our care are completely and totally customizable. The services we are offering are just to help give you an idea what we are able to do for you. Every person is different and for this reason, we give you the flexibility to determine the services and the kind of help you need from us. If you want to try out our services for yourself, please do not hesitate to give us a call now at 414-236-4157.