About Us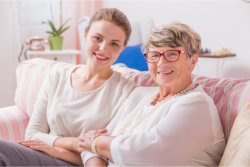 Adorable Home Care LLC believes that every person is different, thus each requires different and unique forms of care. We do not offer cookie cutter services like other agencies do, but rather we tailor make our care to meet the needs and the wants of our clients. We are proud to continue providing superb home health care services ever since our establishment.
Our staff members are not only expert and skilled, but they are also extremely compassionate. We strive to provide you with the support you need to live the life you want through our reliable, safe, easy, and superb services! If you want to receive care in which you will be treated like royalty in your own home, please give us a call now at 414-236-4157.
Non-Discrimination Policy
Adorable Home Care LLC provides equal career opportunities for employees and services for clients. With complying practice of Title VI of the Civil Rights Act of 1964, the Age Discrimination Act of 1975 and Section 504 of the Rehabilitation Act of 1973, we do not discriminate nor shall we deny services from any individual employee or client on the grounds of religion, national origin, gender, disability, sexual orientation, color, race, age, ancestry or citizenship.